Whew. The new job starts on April 1st and I still need to take care of my requirements. Monday is gonna be a very loooonng day.
My lack of time-management skill is seriously fascinating.
Anyway, if all goes well, everything's completed by Thursday. So in addition to some hardcore praying, I'll be keeping my fingers crossed for the rest of the week.
On to another topic then.
I have a lot of blings and baubles, some of it I bought, others were given, and some more were made by me. Because aside from my day job (which is, technically, an evening job), I design and create jewelries to sell. As a result, I now have a pretty good collection that will last me a lifetime. The problem is, it's quite a challenge to keep them organize.
Now I've checked out the internet for ideas, and found some really creative ones:
Real Simple
said we can use a frame and treat our trinkets like art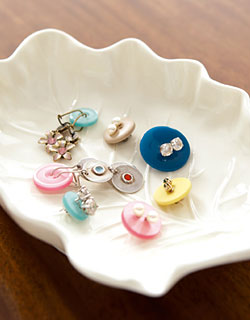 Buttons can also be used to keep a pair of earrings together, according to
Real Neat
And here's my very own HANGER JEWELRY HOLDER:
I just found a gold hanger and decided to use it to display a couple of my pieces.
Ha! Who would've thought it would work?